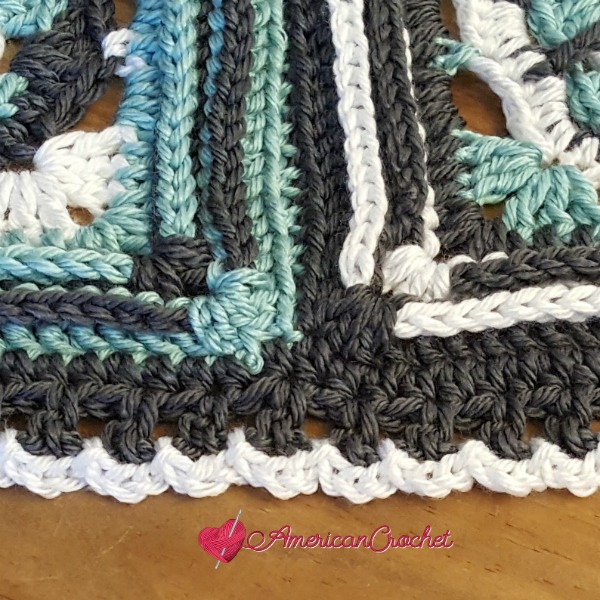 Circle in A Square Border
This Circle in A Square Border completes the Squaring The Circle CAL 2018! Thank you to everyone who participated in this crochet along. I loved getting to see all the gorgeous squares and am looking forward to seeing the completed blankets.
Because the blanket is so textured with so many different stitch designs, we decided that it would be fitting for you to choose your own border!
I have selected from popular, quick and easy to also a bit more advanced edgings to choose from. Have Fun!
I have not joined all of my squares yet or added the border to its entirety. I am sure you all are wondering why. For now all I can say is be watching for future publication. In the mean time I have put together a few different edgings that I think will give the blanket that finished touch.
Level of Difficulty
Beginner/Intermediate
Yarn
Red Heart Soft, #4 worsted weight; Color A (Charcoal) and Color B (White), 20 yards (roughly)
Hook and Notions
Size Hook: I (5.5 mm), scissors and blunt needle
Measurement
N/A
Gauge
N/A
Notes
Corner – work 3 dc in middle of 3 dc
Chain 1 at beginning does not count unless otherwise stated.
Instructions
Attach Color A in middle dc of 3 corner dc
Round 1: Work 3 hdc in same stitch as join, * hdc in each stitch and space (where squares are joined) across, work 3 hdc in middle of 3 corner dc, * repeat from * to * around; join with a slip stitch in the 1st hdc.
Round 2:  Chain 1 (See Notes), sc in same stitch, * chain 3, skip next stitch, sc in next stitch, * repeat from * to * around; join with a slip stitch in first sc.
Fast Color A off and attach Color B
Round 3: * Chain 3, slip stitch into next chain 3 space, * repeat from * to * around; join with a slip stitch in the base of the 1st chain 3 space.
For full details on this crochet along – CLICK HERE!
Happy Hookin!
XO, Mistie
Don't care for this border? No worries!
Check out these links for an assortment of borders you can choose from!
Five Simple & Stunning Crochet Edges