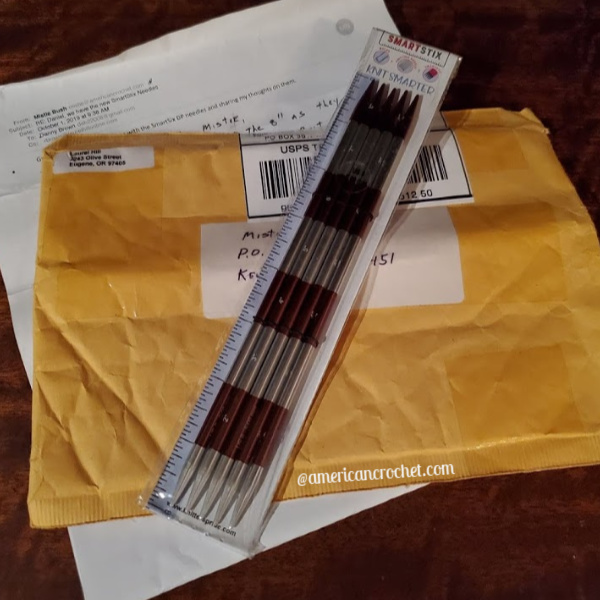 I am so excited to be sharing my thoughts with you on the Knitters Pride new SmartStix DPN (Double Point Needles)! When given the chance to try them out, share my thoughts and host a giveaway talk about pure joy. I mean waiting the arrival of these beautiful needles was like waiting for the book in your favorite series to be released. (surely you can relate)
By Mistie
December 21, 2019
>>> SIGN UP FOR THE AMERICAN CROCHET NEWSLETTER! <<<

I cannot thank Laurel Hill enough for their generosity. They are so kind to me and are always willing to send me new hooks and needles to try out and host giveaways over the products. It took a lot of restraint to not immediately open my package and get to knitting. I will admit I did take a quick looksee when they arrived. I mean, surely you didn't expect me to leave them un-opened until my other commitments were fulfilled. Let me tell you a little bit about Laurel Hill and my thoughts on the double pointed needles, then I will share the giveaway information with you. Be sure to keep reading to find the bonus gift!
>>> PIN IT FOR LATER! <<<
Product Review
About Laurel Hill
Laurel Hill was created 19 years ago in Eugene, Oregon by current owner Rick Brown. Originally from Brooklyn, New York, Rick's long history in product sourcing and factory production led him to develop Laurel Hill's original line of handmade crochet hooks in 2000. Since then, Laurel Hill has grown – and now carries more than 400 individual products from the world's top fiber arts manufacturers.
Today Rick co-operates the company with his son, Danny. Danny has worked as a management consultant, and recently returned from the corporate world to work alongside his Dad and grow the family business. The two love working together, as a way for them to constantly stay in contact. They share a love of basketball, small business, and the natural beauty of the Oregon coast.
The Needles
I have to say when Knitters Pride designed these SmartStix double pointed needles, they paid close attention to detail. Don't get me wrong Knitters Pride does a fantastic job with all their products but there is just something about these needles that draw me to them more than my other pairs. Look how sleek and dreamy they are. The scream "knit with me, knit with me" I can honestly say just holding them in my hands puts a smile on my face and all I want to do is knit. Oh my, I just said that out loud…if you know me then you know my love for crochet is deep.
However, I recently started knitting more with my daughter than I have in the past. Before it was just something, I dreamt of doing but never going passed the dreaming, lust and collecting of needles stages…now I find myself wanting to knit just as much as I want to crochet. The struggle is real my friends.
These awesome SmartStix double pointed needles are marked by the inch which I think is awesome. You can measure your project as you go without constantly having to hunt your tape measure, providing the project is within a certain parameter. The yarn glides across the needles like a dream come true. Have I mentioned how much I love these double pointed needles? They come in a 5 inch and an 8 inch, ranging from a US 0 (2.0mm) up to a US 11 (8.0mm). Each package comes with a set of 5 SmartStix Double Pointed Needles.
Highlights:
*Knitting needles and ruler in one!
*Knitter's Pride SmartStix Double Pointed Needles are laser marked at 1 inch intervals, so you can measure your creations on the go
*Measure your gauge and track your progress
*Each needle is made from high quality & lightweight aluminum that is easy on the hands
*Perfect points, flawlessly tapered – ideal for all yarns and every project
*Laser printed sizes on all needles
Now that I have given you some information about Laurel Hill and the Knitter's Pride SmartStix Double Pointed Needles, I am going to show you my SmartStix DPNs and what I designed with it.
The Yarn
For this project I chose to use Lion Brand Heartland. This yarn is a worsted weight medium #4 yarn. It is a little on the lighter side of your typical #4 yarn. It is one of the things I like most about it. I love how soft and light weight yet sturdy for the cozy and other projects.
Features:
*Content: 100% Acrylic
*Skein Size: 6 oz/170g, 315 yards/288 m
*Care: Hand wash, lay flat to dry
* Gauge" Medium Worsted (4)
>> PURCHASE THE AD-FREE PDF HERE <<< (FREE Today Only!)
Designed By Mistie
December 17, 2019
Ecstatic Scarf ~ Free Knit Pattern
Level of Difficulty
Intermediate
Yarn
Lion Brand, #4 Worsted; 50 yards
Needles and Notions
Size Needles: US 8 (5mm), scissors, stitch markers and blunt needle
Measurement
??
Gauge
? inches =  ? on Round ?
Abbreviations
K = knit
P = purl
S1 PW = slip 1 purl wise
BO = bind off
Notes
Worked flat, then sewed together.
Add this to your favorites on Ravelry HERE
Special Stitches
Not available

Ecstatic Scarf ~ Free Knit Pattern
Instructions
Cast On 20
Rows 1-3: Knit
Row 4: *K1, S1 PW,* across
Row 5: Purl across
Row 6: *K1, S1 PW, K,* across
Row 7: Purl across
Repeat until piece measures desired length.
Knit last 3 rows
Would you like to be a proud owner of a Knitter's Pride SmartStix Double Pointed Needles??
Follow the details below to enter the Giveaway!
The Knitter's Pride SmartStix Double Pointed Needles Giveaway is open to USA and Canada only and ends 12/31/19 at 12am Central US time. If you are on a mobile device and are experiencing difficulties, please use a desktop computer to enter. Only the blog post comment option is mandatory. All other tasks are optional, for bonus entries only. Good luck, everyone!
Congratulations to Our Winners!
And a big Thank You to Laurel Hill Hooks and to those who entered!
Save this pattern to your knit boards on Pinterest!
Happy Hookin!
XO, Mistie