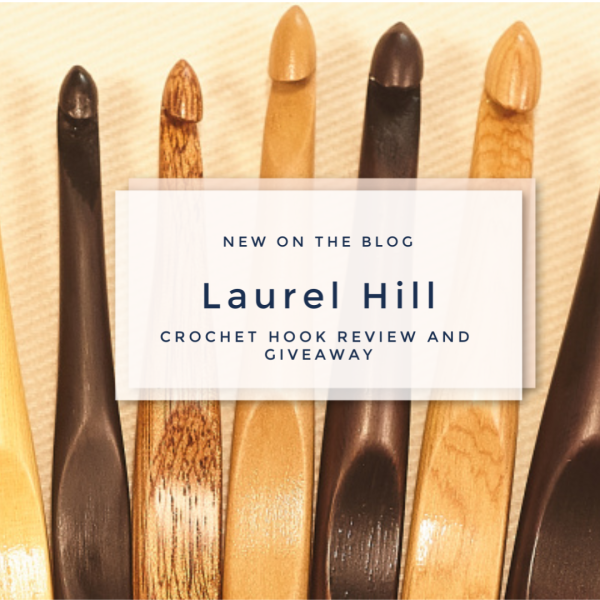 I recently talked with Danny over at Laurel Hill about their crochet hooks and how we could work together, he was kind enough to send me an awesome crochet hook to review for you and host a giveaway. I was so excited to receive the hook and was eager to start crocheting with it. I am thrilled to add this unique and lovely hook to my collection! Let me tell you a little bit about Laurel Hill and my thoughts on the hooks, then I will share the giveaway information with you.
Product Review
Laurel Hill was created 19 years ago in Eugene, Oregon by current owner Rick Brown. Originally from Brooklyn, New York, Rick's long history in product sourcing and factory production led him to develop Laurel Hill's original line of handmade crochet hooks in 2000. Since then, Laurel Hill has grown – and now carries more than 400 individual products from the world's top fiber arts manufacturers.
Today Rick co-operates the company with his son, Danny. Danny has worked as a management consultant, and recently returned from the corporate world to work alongside his Dad and grow the family business. The two love working together, as a way for them to constantly stay in contact. They share a love of basketball, small business, and the natural beauty of the Oregon coast.
Laurel Hill Hooks
At Laurel Hill they are best known for their Exotic, Handmade, and Repurposed Wooden Crochet Hooks…Keep reading on their site to learn more!
The Thumbrest

A defining feature of our wooden hooks is their unique thumbrest, which was developed with input from the Crochet Guild of America. This thumbrest provides comfort even during long crochet sessions. Users with arthritis have reported improved performance, longer sessions, and relief from sore hands and repetitive stress.
Pointed Top
In customer reviews we constantly receive positive feedback on our pointed tops. The tops of Laurel Hill hooks are pointed for better precision, and prevent the yarn from splitting.
Exotic Hardwoods
Laurel Hill hooks are created from sustainably-sourced exotic hardwoods. These woods are recognized for being sturdy, durable, and surprisingly light. Each hook is hand-polished to a beautiful shine, which allows them to glide effortlessly over yarn. They come in four beautiful varieties, in 12 sizes D-M.
Sleek Design
Laurel Hill hooks are a highly tactile product. They are elegant in appearance and extremely pleasing to the touch. Whenever they can, they try to put them in the hands of potential customers, and invite them to #GetHooked on Laurel Hill.
Now that I have given you some information about Laurel Hill and their hooks, I am going to show you my hook and what I designed with it.
I typically do not use such a small, skinny hook for several different reasons. However, it was such a treat to crochet with their hook. I designed my Loving Life Scarf using their size H Forest Palm Crochet Hook and Graceful Fibers yarn. The hook is easy to work with and the yarn glides across it nicely. I'm a big fan of the thumbrest. I don't know why exactly, but it felt particularly comfortable to hold. Maybe it's the warmth of the wood, the smoothness of the finish, the shape of the curve, or a combination of all of those. I thought this shape was going to cause my tension to be uneven, but it really didn't. When making my stitches, I naturally stopped my loop in the same spot every time. So my stitches were just as even as they normally are.
Would you like to be a proud owner of a Laurel Hills Crochet Hook??
Follow the details below to enter the Giveaway!
The Laurel Hill Crochet Hook Giveaway is open to USA and Canada only and ends 07/12/19 at 12:15 am Central US time. If you are on a mobile device and are experiencing difficulties, please use a desktop computer to enter. Only the email option is mandatory. All other tasks are optional, for bonus entries only. Good luck, everyone!
Happy Hookin!
XO, Mistie